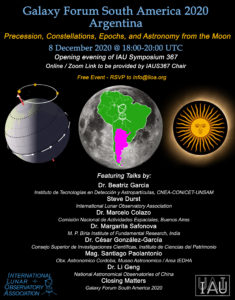 Associated Event 1

«Galaxy Forum South America 2020: Precession, Constellations, Epochs, and Astronomy from the Moon» 
The International Lunar Observatory Association (ILOA) invites to participate of the first Galaxy Forum in Argentina. The Forum is a  free  event to advance astronomy education in the 21st Century.

Chair: Steve Durst.
---
Invited Speakers
Marcelo Colazo (CONAE, Argentina).


«CONAE's Activities Related to the Deep Space Antennas».
César González García (CSIC, Spain).


«Precession and 'Which Equinox'?».
Dr. Li Geng (NAOC, China).


«Tracking Precession in Ancient Chinese Astronomy».
---
 TUESDAY – December 8
18:00 – 20:00 UTC 
---